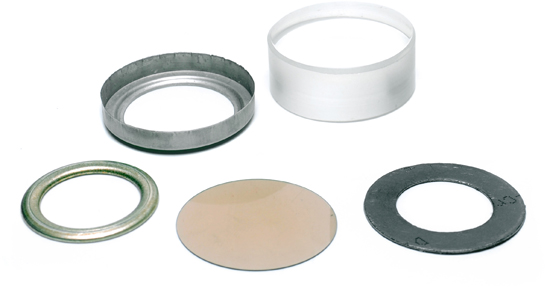 Repair Kit Part No. 7000013156 (Replaces Kit Part No. 923321)
Pressure Rating: 1551 to 3000 P.S.I.
For use with Color-Port Figure Numbers 4591 thru 4595
Glasses are accurately molded and tempered to Yarway specifications. The assembly of glass, mica and gasket is registered precisely in the gasket groove in the body.
At boiler pressures above 300 psig, high temperature water will corrode unprotected gage glass. A thin sheet of high quality ruby mica on the inner surface of each port protects the gage glass from corrosive attack of steam, water and alkalis; however, this protection is not permanent. Continual exposure to high temperature, high pressure water will also corrode the mica shield. The rate at which this corrosion occurs is significantly less than that of glass, and is dependent upon a number of factors. Generally, the higher the operating temperature, the higher the rate of attack.
WARNING: Replace immediately when glass appears white or opaque. Failure to promptly replace the mica-gasket-glass assembly that appears white or opaque can result in catastrophic failure of the glass with violent discharge of hazardous high velocity steam. The discharge of high velocity steam can result in personal injury and property damage may occur.
Yarway recommends each customer establish a preventative maintenance schedule which insures the mica-gasket-glass assembly is replaced previous to the dissolution of the mica shield. In-service gages that have glass which appears white or is opaque, should be isolated immediately and the mica-gasket-glass assembly should be replaced before returning to service. Should any question develop on the condition of the gage glass, the procedure given under the section on preparation for washdown, auxiliary service or gage inspection of the installation, operation and maintenance manual of colour-port water level gages should be used to evaluate port glass condition.
Write to us for more information regarding price or availability. We can ship to almost anywhere across the world.
We are importer, exporter, dealer, distributor, stockist in Albania, Algeria, American Samoa, Andorra, Angola, Anguilla (UK), Antarctica, Antigua and Barbuda, Argentina, Armenia, Aruba, Ascension Island, Ashmore and Cartier Islands (Australia), Australia, Austria, Azerbaijan, Bahamas, Bahrain, Baker Island (USA), Bangladesh, Barbados, Belarus, Belgium, Belize, Benin, Bermuda (UK), Bhutan, Bolivia, Bosnia and Herzegovina, Botswana, Bouvet Island (Norway), Brazil, British Indian Ocean Territory, British Virgin Islands, Brunei Darussalam, Bulgaria, Burkina Faso, Burma (Myanmar), Burundi, Cambodia, Cameroon, Canada, Cape Verde, Cayman Islands (UK), Central African Republic, Chad, Chile, China, Christmas Island (Australia), Clipperton Island (France), Cocos (Keeling) Islands (Australia), Colombia, Comoros, Congo, Zaire, Cook Islands, Coral Sea Islands (Australia), Costa Rica, Cote d'Ivoire / Ivory Coast, Croatia, Cuba, Cyprus, Czech Republic, Denmark, Djibouti, Dominica, Dominican Republic, East Timor / Timor-Leste, Ecuador, Egypt, El Salvador, Equatorial Guinea, Eritrea, Estonia, Ethiopia, Europa Island (France), Falkland Islands (Islas Malvinas), Faroe Islands (Denmark), Fiji, Finland, France, French Guiana, French Polynesia, French Southern and Antarctic Lands, Gabon, Gambia, Georgia, Deutschland (Germany), Ghana, Gibraltar, Glorioso Islands (France), Greece, Greenland, Grenada, Guadeloupe (French Antilles), Guam (USA), Guatemala, Guernsey, Guinea, Guinea-Bissau, Guyana, Haiti, Heard Island and Mcdonald Islands (Australia), Holy See (Vatican City), Honduras, Hong Kong, Howland Island (USA), Hungary, Iceland, India, Indonesia, Iran, Iraq, Ireland, Isle of Man, Israel, Italia (Italy), Jamaica, Jan Mayen (Norway), Japan, Jarvis Island (USA), Jersey, Johnston Atoll (USA), Jordan, Juan de Nova Island (France), Kazakhstan, Kenya, Kingman Reef (USA), Kiribati, North Korea, South Korea, Kuwait, Kyrgyzstan, Laos, Latvia, Lebanon, Lesotho, Liberia, Libya, Liechtenstein, Lithuania, Luxembourg, Macau, Macedonia, Madagascar, Malawi, Malaysia, Maldives, Mali, Malta, Marshall Islands, Martinique, Mauritania, Mauritius, Mayotte, Mexico, Micronesia, Midway Islands (USA), Moldova, Monaco, Mongolia, Montserrat (UK), Morocco, Mozambique, Namibia, Nauru, Navassa Island (USA), Nepal, Netherlands, Netherlands Antilles, New Caledonia, New Zealand, Nicaragua, Niger, Nigeria, Niue, Norfolk Island, Northern Mariana Islands, Norway, Oman, Pakistan, Palau, Palestine, Palmyra Atoll (USA), Panama, Papua New Guinea, Paracel Islands, Paraguay, Peru, Philippines, Pitcairn Islands (UK), Poland, Portugal, Puerto Rico, Qatar, Reunion (Bourbon Island), Romania, Russia, Rwanda, Saint Helena (UK), Saint Kitts and Nevis, Saint Lucia, Saint Pierre and Miquelon (France), Saint Vincent and the Grenadines, Samoa, San Marino, Sao Tome and Principe, Saudi Arabia, Senegal, Serbia and Montenegro (Yugoslavia), Seychelles Island, Sierra Leone, Singapore, Slovakia, Slovenia, Solomon Islands, Somalia, South Africa, South Georgia and the South Sandwich Islands (UK), España (Spain), Spratly Islands, Sri Lanka, Sudan, Suriname, Svalbard / Spitzbergen, Swaziland, Sweden, Switzerland, Syria, Taiwan, Tajikistan, Tanzania, Thailand, Togo, Tokelau, Tonga, Trinidad and Tobago, Tromelin Island (France), Tunisia, Turkey, Turkmenistan, Turks and Caicos Islands (UK), Tuvalu, Uganda, Ukraine, United Arab Emirates, United Kingdom, United States of America, Uruguay, Uzbekistan, Vanuatu, Venezuela, Vietnam, Virgin Islands (USA), Wake Island (USA) / Eneen-Kio Atoll, Wallis and Futuna, Western Sahara, Yemen, Zambia & Zimbabwe.
Our valuable clients are situated in Ahmedabad, Ankara, Athens, Atlanta, Bandung, Bangalore, Bangkok, Barcelona, Beijing, Belo Horizonte, Berlin/Brandenburg, Bogotá, Boston, Buenos Aires, Busan, Caracas, Changzhou, Chengdu, Chennai, Chicago, Chongqing, Chūkyō (Nagoya), Dallas–Fort Worth, New Delhi, Detroit, Dhaka, Dubai-Sharjah-Ajman, Frankfurt Rhine-Main, Guadalajara, Guangzhou, Hamburg, Hangzhou, Harbin, Hong Kong, Houston, Hyderabad, Istanbul, Jakarta, Jinan, Karachi, Keihanshin (Kyoto-Osaka-Kobe), Kochi, Kolkata, Kuala Lumpur, Lagos, Lahore, Lima, London, Los Angeles, Luanda, Madrid, Manila, Melbourne, Mexico City, Miami, Milan, Monterrey, Montréal, Moscow, Mumbai, Munich, Nanchang, Nanjing, New York, Paris, Philadelphia, Phoenix, Pune, Qingdao, Randstad, Rhine-Ruhr, Rio de Janeiro, Riverside-San Bernardino, Riyadh, Rome, San Francisco–Oakland, Santiago, São Paulo, Seoul, Shanghai, Shantou, Shenyang, Shenzhen, Singapore, Stuttgart, Surabaya, Surat, Sydney, Taipei–Keelung, Tehran, Tianjin, Tokyo, Toronto, Washington, D.C., Wenzhou, Wuhan, Xi'an, Yangon, Zhengzhou.